Brown-bag Lunch – June 11, 2014
Background
Interpersonal relationships are at the heart of community engaged work. We've found that the best conversations emerge over break, at lunch, or spontaneously during events and community gatherings. The work of building a community engagement strategy is long-term; we've just begun this journey, and value honest conversation with external and internal communities. As a part of creating connections, we put out an invitation for a 'brown bag lunch' in our office at Cecil Green Park House with a view of the ocean. The format was fairly informal, with a focus on having an opportunity to connect with others involved in community engagement from across campus and beyond. These conversations are a chance to learn from those across campus and also to ensure that our own approach resonates.
On June 11th, two CP Unit staff (Deb Zehr and Mali Bain) were joined by staff from the Liu Institute, Centre for Student Involvement, Peter Wall Institute for Advanced Studies, Arts Internship Program, and the Division of Health Care Communication. Following are some of the notes that emerged from conversations on that day. These insights, perspectives, and ideas will be shared online, and will continue to shape approaches to community engagement across campus. If you'd like to continue the conversation / respond to some of what's here, feel free to leave a comment or send an email.
Why – The Community Engagement Imperative (online here)
Why is UBC committed to Community Engagement?
Comments (on "Why Else"):
"Brings 'meaning' to our work everyday"
"UBC is publically funded, knowledge should not just be generated, it should be shared"
"Students who come to UBC with their 'career' in mind. We must include community and employers in the conversation, research and teaching"
"Innovation comes from working together with people who come at problems from different points of view"
Connections to UBC's Strategic Plan (from a section of the concept paper)
A CE strategic plan will better reflect that community engagement is tied to the core commitments, mission and priorities of UBC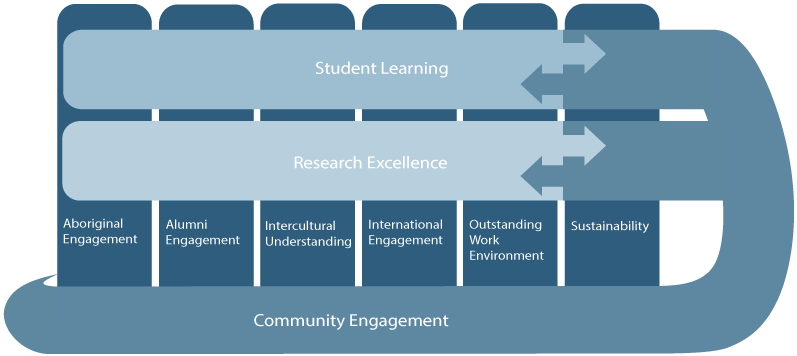 Comments:
"UBC's Leadership – how does it lead and support or hinder a CE strategic plan in being actualized"
"CE as 'foundation' that other pieces intersect with (in diagram)"
"How do we become more transparent in who we work with, where we collaborate vs. compete for students opportunities and connections in the community"
"How do we get people to work together seamlessly"
What questions remain/emerge?
"How can we engage community in a seamless way?" and "How do we make the right referrals"
"How can we make referrals to each other to make sure community doesn't get lost in the 'UBC Maze' of units, departments?"
"What networking opportunities can we facilitate for partners connected across campus (as many are not UBC alumni)

Value-add?
Resources?
Invitations to events happening on campus?"

"How do we engage with experts on CE?

Bring together experts/workshop from across campus – PWIAS?
If working on a research project, bring someone experienced in CE"

"How would you quantify/measure CE"

How to combine evaluation work collectively? How do we share it?
How do we follow up/engage beyond discrete events?"

"How do we broker good community-university partnerships?"
"What are the principles of good university-community engagement?"
"How do we mitigate the power differential that exists between university and community?"