Brown-bag Lunch – June 26th, 2014
Background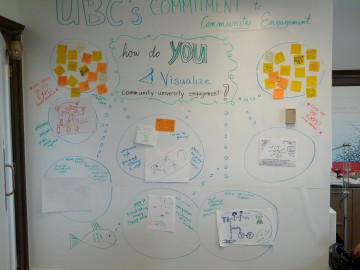 Interpersonal relationships are at the heart of community engaged work. We've found that the best conversations emerge over break, at lunch, or spontaneously during events and community gatherings. The work of building a community engagement strategy is long-term; we've just begun this journey, and value honest conversation with external and internal communities. As a part of creating connections, we put out an invitation for a 'brown bag lunch' in our office at Cecil Green Park House with a view of the ocean. The format was fairly informal, with a focus on having an opportunity to connect with others involved in community engagement from across campus and beyond. These conversations are a chance to learn from those across campus and also to ensure that our own approach resonates.
June 26th brown-bag: Summary
On June 26th, CP Unit staff (Deb Zehr, Mali Bain, Tim Tucker, and Nicole Brand-Cousy) were joined by staff from the Centre for Student Involvement and Careers, Centre for Teaching, Learning and Technology, UBC Sustainability Initiative, UBC SEEDS, Campus and Community Planning, and a campus resident and community organization representative. Following are some of the notes that emerged from conversations on that day. These insights, perspectives, and ideas will be shared online, and will continue to shape approaches to community engagement. If you'd like to continue the conversation / respond to some of what's here, feel free to leave a comment or send an email to community.engagement@ubc.ca.
The theme for this conversation was "Visualizing Community Engagement". First, we individually wrote images that to us represented "community". Here's what we got: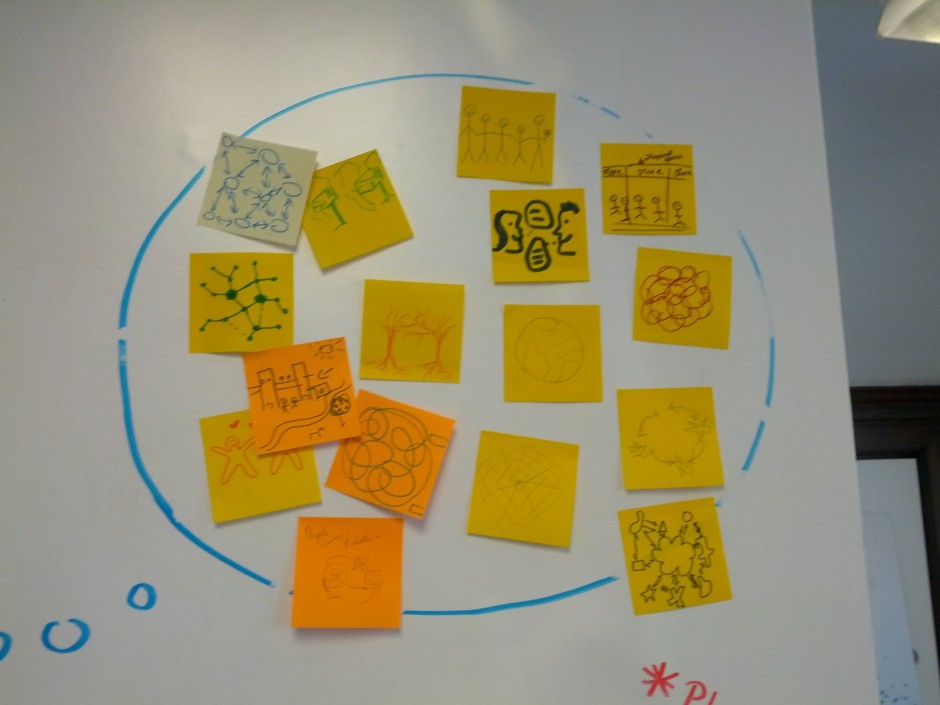 The visuals shared here have a theme of people – in families, in groups, in the whole world – and their environment. There are also themes of connectedness (between 'nodes' or people), of intersecting pieces, of double-ended arrows that demonstrate a two-way street.
We then drew something to represent 'engagement':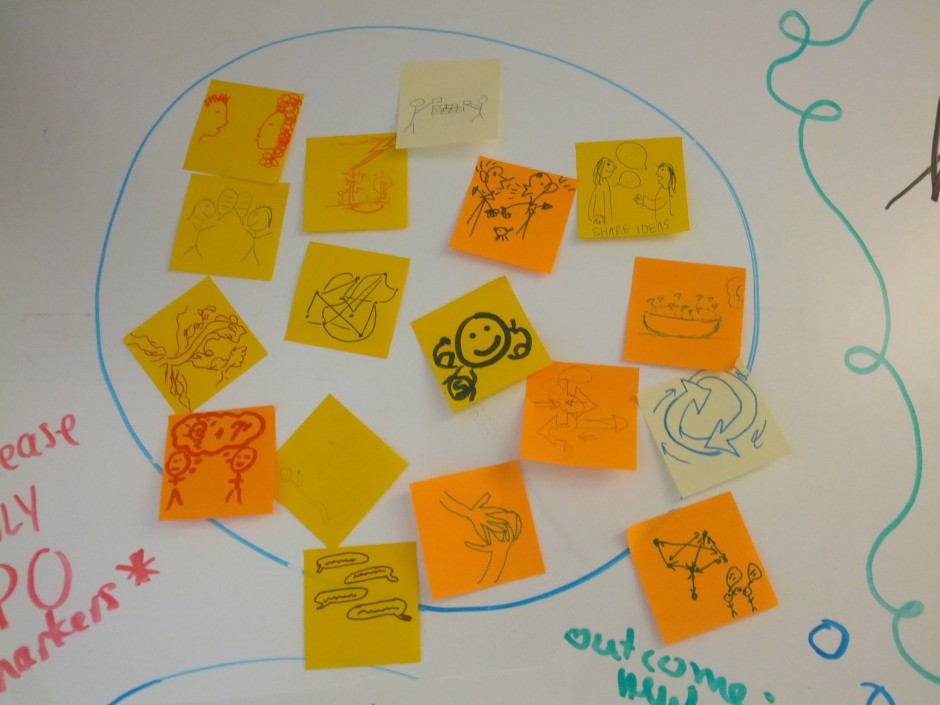 There is a strong theme here of people talking to each other and/or building something together. That combination of sharing ideas and inspiration and practical applications goes both ways, again.
Once we had gotten out some ideas of what 'community' and 'engagement' mean, we put the two parts together. Pairs or small groups worked together to answer the question "How do you visualize community engagement?". The artwork included below is the work of one or more people at the brownbag lunch; the statements around the edge are key messages from the explanation of these drawings. Some initial themes that emerge from these drawings include:
A diversity of groups / communities, of different ages and cultures, all of whom have something to share
People coming together in relationships, equal partnerships, and networks
An iterative, continuous cycle of new ideas evolving into action and outcomes
A process of mutual listening, hearing each others' perspectives, and developing a shared vision
Remembering the environment we are all embedded in
A process of integration, both giving and receiving; going two ways