UBC-community partnership addresses public health needs while preparing future grads
When the BC government declared the COVID-19 pandemic a public health emergency in March of 2020, Kelsi Jessamine and Dr. Doris Leung had to act quickly to continue supporting their clients—pet owners experiencing homelessness or who are vulnerably-housed in Vancouver's Downtown Eastside (DTES). The pair, who jointly run Community Veterinary Outreach's (CVO) Vancouver program, had received a UBC Community-University Engagement Support (CUES) grant to offer a series of free "One Health" veterinary clinics. The first event in late February had been a huge success. When the health order to stay at home came out, the second clinic was just days away.
"It was just one of those things where, one day before the event, we thought, 'we can't do it'," said Doris, Regional Director of CVO in Vancouver. "The thing is, we had 80 pet owners signed up for that event, so we knew that people wanted to come—whether it was for flea control or grooming or pet food or pet supplies, or for seeing a nurse or a mental health support worker or a pharmacist—we knew there were a lot of people in need."
"The animal gives us that point of connection to the person,"
Provided in partnership with a number of community partners, CVO One Health clinics derive their name from their innovative approach of offering interdisciplinary health services and support to clients. Although the events centre on offering pro bono veterinary care, they also act as a segue to supporting marginalized pet owners' own health needs. "The animal gives us that point of connection to the person," explains Doris. "It provides an opening and begins to build trust with people who very likely are dealing with mental health issues, who likely have chronic health issues." In Vancouver, UBC faculty and students in a variety of health disciplines work alongside the vets at the free clinics to offer care or provide referrals and resources to ensure the clients get the follow up care they need.
A registered charity, CVO was founded by veterinarian Dr. Michelle Lem in Ontario in 2003. It had expanded slowly across Canada and the US, but didn't reach Vancouver until 2016 when UBC Clinical Instructor Kelsi Jessamine took initiative. "I reached out to Michelle in 2015, and at the time she was actually having conversations with community stakeholders in Vancouver about the program," said Kelsi, who was completing a bachelor's degree in nursing at UBC at the time. "She knew Doris was doing her master's in public health at UBC, so the timing came together beautifully."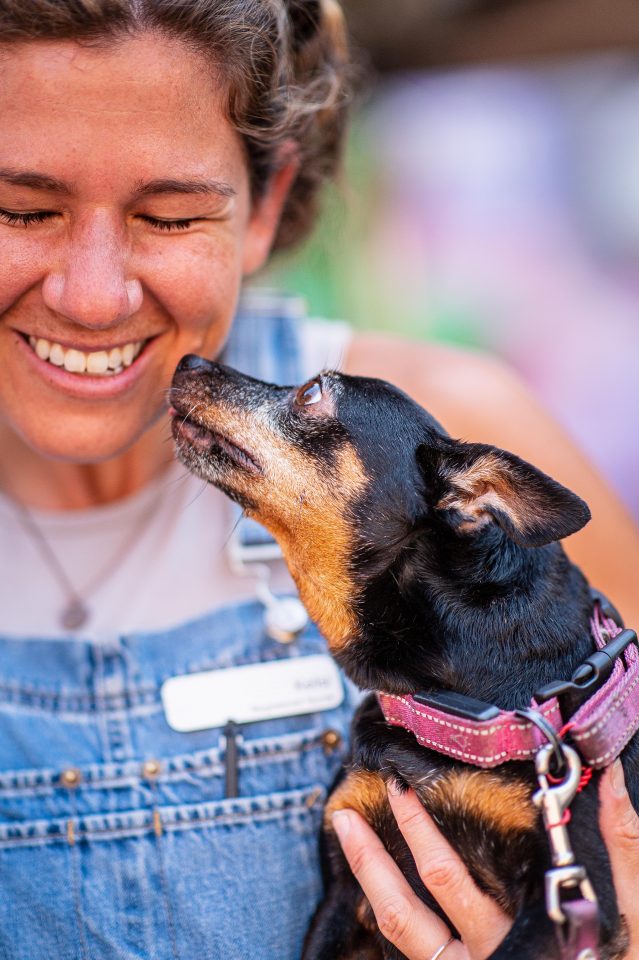 Dr. Lem's rule is not to start clinics in new communities unless they would be sustained, but she knew she could rely on the joint local leadership of Doris and Kelsi, who had both volunteered at One Health clinics in Ontario while doing undergrad degrees there. In partnership with UBC, the context was set for a successful Vancouver-based CVO office and a pilot event took place in early 2016. Initial UBC collaborators included the UBC schools of nursing and dental hygiene and the Faculty of Pharmaceutical Sciences, all of which provided support in the form of faculty expertise and student volunteers. Community partners included the BC SPCA and Paws for Hope Animal Foundation, who saw the clinics as an opportunity to advance their mandates. "In order to support the welfare of pets, we need to address the health of their people," Kathy Powelson, of Paws for Hope's Executive Director. "That's the beauty of CVO's One Health approach—it recognizes that the health of people and their pets are inextricably linked and that both animals and humans deserve equal access to healthcare."
Following the success of the pilot, CVO and the One Health clinics gained traction quickly, with additional community partners coming on board. The CVO-UBC partnership has continued to expand; UBC's School of Population and Public Health (SPPH) has come on board via Kelsi's Master of Nursing degree, and goals are in place to develop relationships with UBC faculties of dentistry and medicine. Doris and Kelsi are also considering ways to include academic partners within the social sciences to further broaden the One Health model and UBC partnership. The CUES support received in 2019 was integral to helping expand and sustain these partnerships, filling gaps in funding available for community engagement and collaboration.
Doris and Kelsi's complementary training creates a natural symbiosis for their joint leadership. Doris provides veterinary and operational oversight, and Kelsi supports the human health component and trains the volunteers, a role she finds particularly gratifying. "Our clients leave very happy, very appreciative. And the student volunteers feel very satisfied as well in being part of something really special," says Kelsi. "I feel equally inspired by the clients and the volunteers that I work with in terms of the generosity and what people have to give at these events."
"We're providing students an education about how to deliver healthcare and services in a safe, supportive manner."
The training and hands-on experience that UBC health professional students gain is crucial to supporting their academic learning and transition to careers in the field. "[The students] learn so much about working with vulnerable populations—the health disparities, barriers to services, social determinants of health and delivering services through a strength-based, trauma-informed approach. We're providing students an education about how to deliver healthcare and services in a safe, supportive manner."
The initiative has also resulted in a number of research opportunities for UBC. Kelsi is currently pursuing her master's degree in nursing at UBC, evaluating the CVO Vancouver program to better understand the health impacts and disparities related to vulnerable populations and pet ownership. And a research collaboration is underway between CVO, UBC and St. Paul's hospital to understand the relationship between patient-initiated discharges and pet ownership.
The work has continued throughout the last year and a half, despite the new pandemic-related guidelines. When the health order came down to avoid large gatherings, Doris, Kelsi and the CVO team were able to make a quick pivot. They cancelled upcoming clinic dates and redirected the flexible CUES funds toward much-needed outreach and education activities. This included a visit to Strathcona park to check in on clients and their pets and deliver support, pet food and supplies. The team created a video showcasing some of the people they met at Strathcona Park and produced a calendar to showcase some of their human and animal clients.
With the province beginning to reopen, the CVO-UBC team recently held their first event in more than a year–"Pet Fair People Care"–on June 28th in the DTES. No vet care was provided, but the team showed up with pet food and supplies, and volunteer nurses and mental health practitioners were on site to provide support and referrals. Doris, Kelsi and their team of volunteers are eager to get back to offering full clinics. In the meantime, they will continue to provide care via outreach and find new ways of supporting the people who need it most.
"Marginalized people deserve support for their health needs and those of their animals."
"The question is, how can supporting the animal affect the health of a person, and how can that also impact our community overall?" says Doris. "The Downtown Eastside is a marginalized community. But it is also the community that we all live in. Marginalized people deserve pet ownership and marginalized people deserve support for their health needs and those of their animals."
---
This story is part of a series about UBC-Community partnerships supported by the Community-University Engagement Support (CUES) fund. Provided jointly by the UBC's Community Engagement and VP Research & Innovation offices, CUES funding supports community-based charitable organizations working in partnership with UBC. Read more about CUES.
When Robert adopted Pretty Girl, one of the first things he did was give her a new name. The young female pit bull cross had come from an abusive situation, and her previous owner had given her a moniker that was less than kind. Robert wanted to make sure his new pup's name made her feel special and loved.
Robert took Pretty Girl in and spent the next few years raising her to be the intelligent, loving pup she is today. Unfortunately, over time Robert's mobility issues progressed and he made the selfless decision to find Pretty Girl a new home. In an effort to find a suitable new owner, Robert reached out to friends and was ultimately connected with CVO. CVO was able to help cover the cost of Pretty Girl's spay, a procedure Robert wished she could have had sooner.
In a happy turn of events, CVO volunteer and UBC nursing grad Tiana Stuart adopted Pretty Girl. As a volunteer at the Overdose Prevention Society and community nurse in the downtown east side, Tiana loves to bring Pretty Girl with her whenever she can, including on visits with her previous owner and rescuer Robert.
All images except the one of Robert and Pretty Girl were taken at the CVO Vancouver Pet Fair People Care event on June 28th, 2021. Pictured at top are dogs Stubborn (left) and Suki (right).
Read more Engagement Stories.